Poster Art Unveiled for Rolex Monterey Motorsports Reunion
Should be an interesting weekend with some great cars at a great track. Will you be there?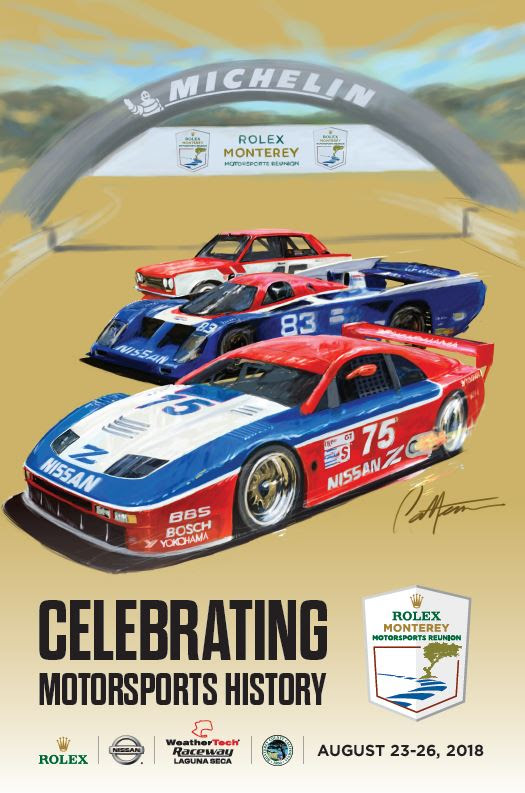 Artist Bill Patterson Captures Nissan / Datsun History
MONTEREY, Calif., June 11, 2018 — Three iconic cars from Nissan's and Datsun's racing past are celebrated in the official poster art for the annual Rolex Monterey Motorsports Reunion held at WeatherTech Raceway Laguna Seca August 23-26. It is the first time in the event's storied history that a Japanese automaker has been honored as featured marque.

Setting the racing stage was the BRE Datsun 510. The team of BRE founder and designer Peter Brock and driver John Morton went on to dominate the 1970-1972 National Championships, thereby firmly establishing Datsun as a considerable force on the racing map.

The second car in the poster trilogy is the IMSA GTU championship-winning GTU driven by Geoff Brabham, who in 1988, won nearly every race (eight consecutively), on his way to securing the IMSA Manufacturers Championship. Nissan followed its 1988 win with titles in 1989 and 1990.

The "newest" car in the poster is the No. 75 Nissan 300ZX that Steve Millen drove to the 1992 and 1994 Drivers' Championship titles. The powerfully reliable 300ZX captured impressive wins in 1994 at the 24 Hours of Daytona, 12 Hours of Sebring and a class victory at the 24 Hours of Le Mans. Millen once again returns to the cockpit at the Rolex Monterey Motorsports Reunion in race group 7B.

"It was important to capture different eras of Nissan history in one image, and I think these three cars beginning with the iconic Datsun 510 in its red, white and blue BRE livery will resonate with fans of all ages," explained Bill Patterson, the official artist of WeatherTech Raceway Laguna Seca. "I can't wait to see these cars up close and hear them breathe to life."

Patterson's art will be available in limited-edition 24x36-inch posters that are sold exclusively in the WeatherTech Raceway Laguna Seca Official Store beginning at the Monterey Pre-Reunion Aug. 18 and 19. Patterson will also be present throughout the weekend of Aug. 23-26 to meet with visitors and conduct autograph sessions.

The Rolex Monterey Motorsports Reunion is one of the cornerstones of the world-renowned Monterey Classic Car Week that is held annually in the coastal community. Visitors worldwide descend on the area to enjoy the historic cars in action and the Pebble Beach Concours d'Elegance, along with the supporting activities that comprise the vibrant motoring week.

Advance general admission tickets to the Rolex Monterey Motorsports Reunion are on sale beginning at $60 (Friday) and a four-day ticket at $170, which includes a complimentary souvenir magazine. Children 15 and under are free with a paying adult. VIP hospitality packages begin at $225 per person. For more information on the Rolex Monterey Motorsports Reunion or to purchase tickets, visit WeatherTechRaceway.com or call 831-242-8200. For information on Bill Patterson, please visit www.billpatterson.com.
###

About WeatherTech Raceway Laguna Seca
WeatherTech Raceway Laguna Seca is a world-renowned 2.238-mile traditional road course that was built in 1957, then known as Laguna Seca Raceway, by the Sports Car Racing Association of the Monterey Peninsula (SCRAMP). SCRAMP is a non-profit 501(c)(4) corporation that is the management firm for the County of Monterey-owned Laguna Seca Recreation Area.